Four Surrey-based school teams have a shot at winning the B.C. basketball championship in the top-tier boys division.
Starting Wednesday (March 8) at Langley Events Centre, 64 squads will play for the provincial hoops title in four divisions, based on school-population size.
In the 16-team 4A tourney, Semiahmoo is ranked #1 in the province heading in, followed by Fleetwood Park (#6), Elgin Park (#13) and Tamanawis (#14).
Semi's Thunderbirds, who placed second in 2022, earned this year's top ranking after beating Fleetwood Park Dragons in Friday's final (March 3) of the South Fraser regional championship, played at the South Surrey school's gym. The Les Brown-coached Semi team won 82-56 in front of a large crowd.
Elgin Park topped Tamanawis 91-64 to earn third in South Fraser, which receives four berths to the provincial tournament.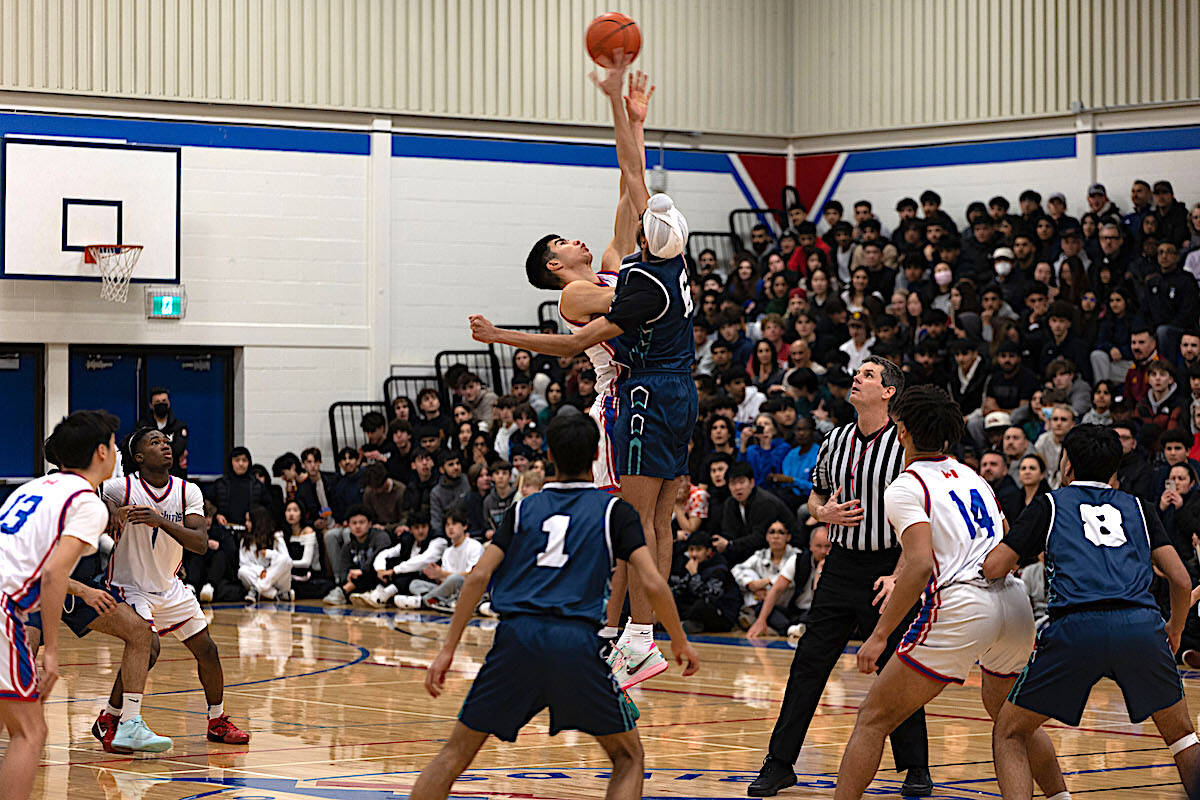 Seeds #1, 6, 13 and 14 for the four #SurreyBC school boys top-tier hoops teams at BC Provincials starting Wednesday at @LangleyEvents. @SSSAA_SD36 @FPSSDRAGONS @SemiahmooSec @tamanawisbball @SurreyNowLeader @Canucklehedd https://t.co/SVQAHdQt6N

— Tom Zillich (@TomZillich) March 6, 2023
This week the attention now turns to the LEC, where Semiahmoo gets things going in the 4A draw with an 8:30 a.m. game Wednesday against #16 Mount Baker.
Also on opening day, Elgin Park plays St. George's at 10:15 a.m., Fleetwood Park faces W.J. Mouat at 3:30 p.m. and Tamanawis will battle Vancouver College at 5:15 p.m.
The 4A boys final will be played at 8 p.m. Saturday night, March 11, in the arena bowl on 200 Street, at 80 Avenue.
No Surrey-based teams are in the 3A tourney, but the #6-ranked North Delta will take on Alberni District on opening day, 3:30 p.m. start.
In the 2A division, Surrey's Pacific Academy (ranked #3), Southridge (#5) and Khalsa School (#11) are three teams in the hunt.
Scores and schedules are posted on bchighschoolbasketballchampionships.com.
Last Saturday (March 4) at Langley Events Centre, North Delta's Seaquam team earned sixth in B.C. in the girls 4A basketball championship.
In the 3A tournament, Clayton Heights finished 10th.
Surrey's Holy Cross placed third in the 2A tournament with a 61-39 win over Langley Christian on the final day.
In the junior girls championship, Holy Cross finished 7th and Lord Tweedsmuir placed 8th in the Championship Bracket, won by Langley's Brookswood team.
---

tom.zillich@surreynowleader.com
Like us on Facebook Follow us on Instagram and follow Tom on Twitter