A Newton-area business group is pushing Surrey City Hall to put the brakes on plans to build Newton Community Centre on a vacant lot on King George Boulevard, at 70A Avenue.
Newton Business Improvement Association (BIA) suggests the estimated $100 million might be better spent on redeveloping existing recreation facilities and lands located just a block northeast of there, off 72nd Avenue.
"The Newton Arena, Wave Pool, Recreation Centre, Senior Centre & Library need a comprehensive plan for revitalization, not a political promise that does not fit into the Official Community Plan," the BIA says in a news release. "Community consultation matters!"
The Newton Community Centre project was revealed in 2020 by then-mayor Doug McCallum and council. By 2022, drawings of the $100M project's first phase showed a 10-lane, 50-metre lap pool, leisure pool, lazy river and other water attractions on the site, which is about a half-kilometre from the neighbourhood's existing wave pool.
Philip Aguirre, executive director of the BIA, says it's time to "rethink the project," now that city hall has a new council led by Mayor Brenda Locke.
"I'm hopeful we can find new efficiencies or better results by re-imagining the project," said Aguirre, who ran for council last fall with mayoral candidate Jinny Sims' Surrey Forward party.
"Newton already has a functioning community centre, which is well-used but it's definitely older and needs renovations, for sure, like the arena, but maybe Strawberry Hill could use a facility of that size, instead of putting it across the street from an existing community centre."
The Now-Leader has reached out to Locke for her thoughts.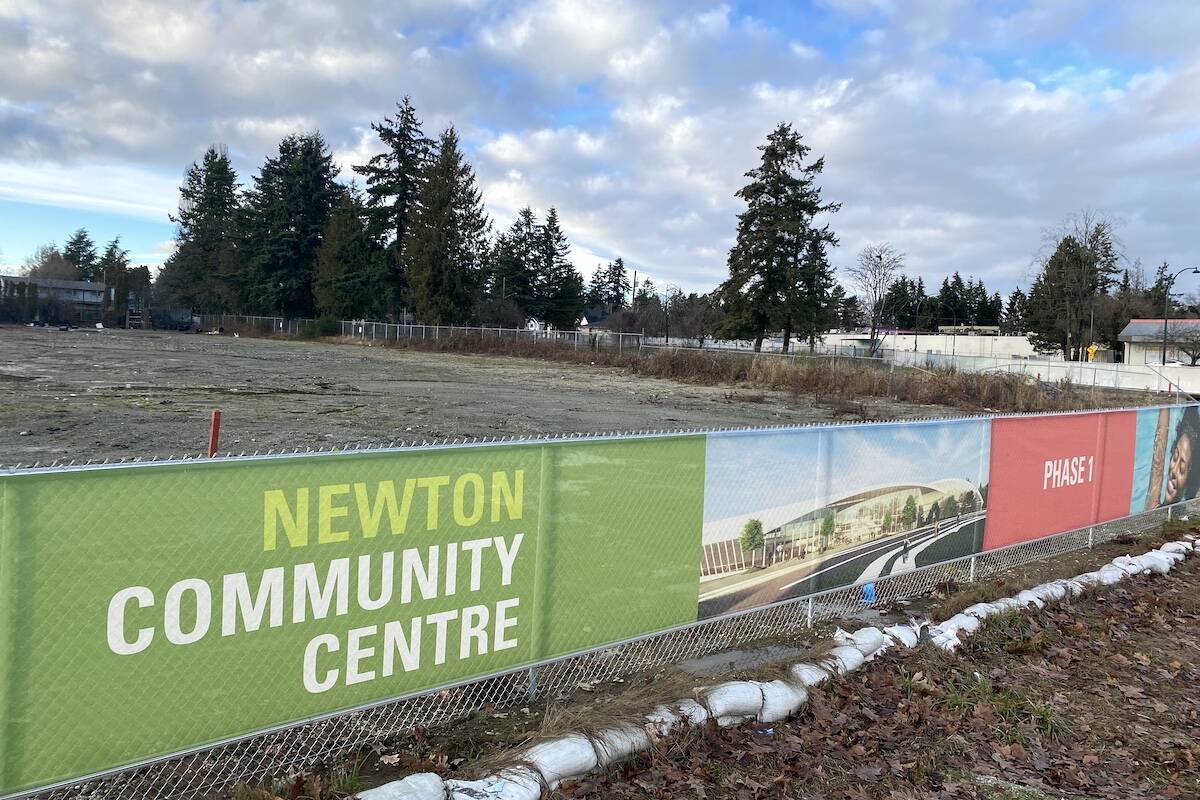 Aguirre's comments echo those of his in May 2021, when he questioned why the King George site was chosen for a community centre when the area's "civic core" is located across the street, where an existing recreation centre stands.
Aguirre, who operates Old Surrey Restaurant on 72 Avenue, said he had a meeting scheduled Tuesday (Jan. 24) with staff of the city's recreation department.
"The biggest thing for us is that we want a comprehensive, long-term plan for the Newton Town Centre, and without that, how can we make decisions? What are the plans for the existing community core and the wave pool? If there are no long-term plans there, how can we build across the street? Will we sell the arena land and wave pool to developers and build social housing and highrises? We don't know these things, and we need to know."
The planned community centre sits on the site of a former Rona store, demolished in 2021. "The new facility is expected to be open to the public by the end of 2024," city hall said at that time.
Today, no construction work has started on the now-vacant lot, although crews have changed the alignment of 70A Avenue, now curved near the intersection of King George Boulevard.
"We need to slow this down," Aguirre said. "I could be convinced that this is the right area, the right plan, but nobody's been able to show me any details, and that's concerning. I think this is a great opportunity for this new council to revisit this plan. We're telling city hall that Newton and the business community wants to get it right the first time, and can't afford to make mistakes with $90 million or $100 million."
Plans for the 75,000-square-foot community centre involve "multiple components," including a library, recreation and culture programming similar to Clayton Community Centre, according to a corporate report to council in 2020. "Parks amenities" are also planned on the site.
In October 2020, city council unanimously authorized city staff to purchase 16 adjacent parcels of land in Newton for future parkland, road alignment and civic projects. The move involved 7.24 acres, part of which embraces the former site of the Rona store, which closed permanently on Jan. 26, 2021.
---

tom.zillich@surreynowleader.com
Like us on Facebook Follow us on Instagram and follow Tom on Twitter