Eight people were arrested when Surrey RCMP and the Emergency Response Team executed a search warrant at a house in the 13700-block of Grosvenor Road in Bolivar Heights on Wednesday afternoon.
"They're just working on processing some of the exhibits seized so we can get a more fulsome picture of everything that was located and seized," Cpl. Vanessa Munn said Thursday.
Area resident Dominic Vallee said he heard one gun shot and glass breaking.
"I heard a shotgun, there was tear gas deployed, it was pretty f—-ing mental," he said. "I personally heard two kinds of weapons, so there was an exchange of fire, guaranteed."
The Surrey RCMP says no shots were fired.
"Nope, no shootout, a search warrant being executed, no shots fired, no," Munn said. "It was a search warrant that was executed in relation to the Controlled Drugs and Substances Act and at the initial execution eight people were arrested inside the residence."
Video by Dominic Vallee
On Friday Surrey Mounties issued a press release indicating police seized a loaded shotgun, six airsoft pistols, an airsoft rifle, 1.4 kilograms of suspected methamphetamine, 184 grams of suspected Fentanyl, 110 grams of suspected cocaine, and over $7,000 cash.
Const. Sarbjit Sangha said one person was held in custody for breach of probation and the others were released pending further investigation. "Surrey RCMP continues to work closely with City of Surrey Bylaw Enforcement to ensure the neighbourhood remains safe and free from further criminal activity at this location, as part of an ongoing initiative that targets problem properties," she said.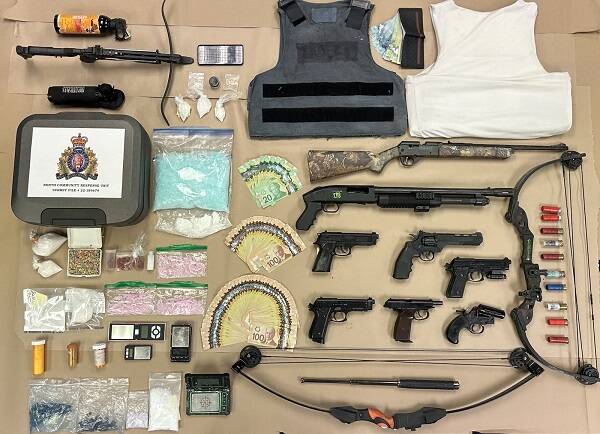 Items seized by police. (Photo: Surrey RCMP)
Meantime, on Dec. 22, 9:30 p.m., Surrey Mounties responded to a report of shots fired at a residence in the 13700-block of Grosvenor Road and a man was taken to hospital, suffering from a gunshot wound.
---

tom.zytaruk@surreynowleader.com
Like us on Facebook Follow us on Instagram and follow Tom on Twitter