Whalley's new Legion isn't open for business just yet, but people are keen to see the brighter, more modern and versatile space.
The 10,500-square-foot restaurant/bar is located on the north end of the new Veterans Village tower, on City Parkway near 106 Avenue, where the previous Legion hall stood for 59 years, from 1960 until 2019.
The new Branch 229 needs a liquor license and a point-of-sale system before the ground-floor facility opens to the public, probably in a few weeks.
"It's been a long time coming, a lot of years of work to get it done, and it's not finished yet," said Tony Moore, Whalley Legion president.
"Members are excited, they can't wait for it to open, and people want to dance and socialize, play pool, whatever," Moore added. "It's a great thing, and I think the ladies' auxiliary is applying for a bingo license, which will be popular with the many seniors around."
Live music will be played on weekends, according to 1st vice-president Jill Bilesky, "and a band could set up on either end of the hall, everything's been wired and with track lights. There are options.
"We have two new pool tables, and people don't have to pay to use those," she added. "We have lots of big TVs, 13 of them including the big drop-down screen in the banquet space."
Other attractions include Keno, pull-tabs and a jukebox.
"We have library shelves here where we'll put up military books for people to read," Bilesky said. "That banquette splits into three pieces and has wheels, so we can move that out and have a band set up here too."
The facility opening is well timed with Whalley Legion celebrating its 75th anniversary this year.
The new Legion was nearly 10 years in the making, and involved temporary operations in a building off 108 Avenue over the past few years.
On Wednesday (Feb. 8), guests at a Veterans Village grand-opening event saw the new Legion space for the first time.
The $312-million Village project was led by the BC/Yukon Command of the Royal Canadian Legion, together with Whalley Legion Branch 229 and Lark Group. Housing partners are Parc Centrale and Vancouver Resource Society.
"The old one was 10,000 on two floors, and this one is 10,500 on the ground floor, but it's a better design," Moore noted. "The other one was really only 3,500 usable square feet, and this one is brighter, not at all dingy like our former home could be."
At the lounge entrance, Port Coquitlam's Studio G3 created an etched-glass wall depicting the Vimy Ridge memorial in France, the initial inspiration for the building's design.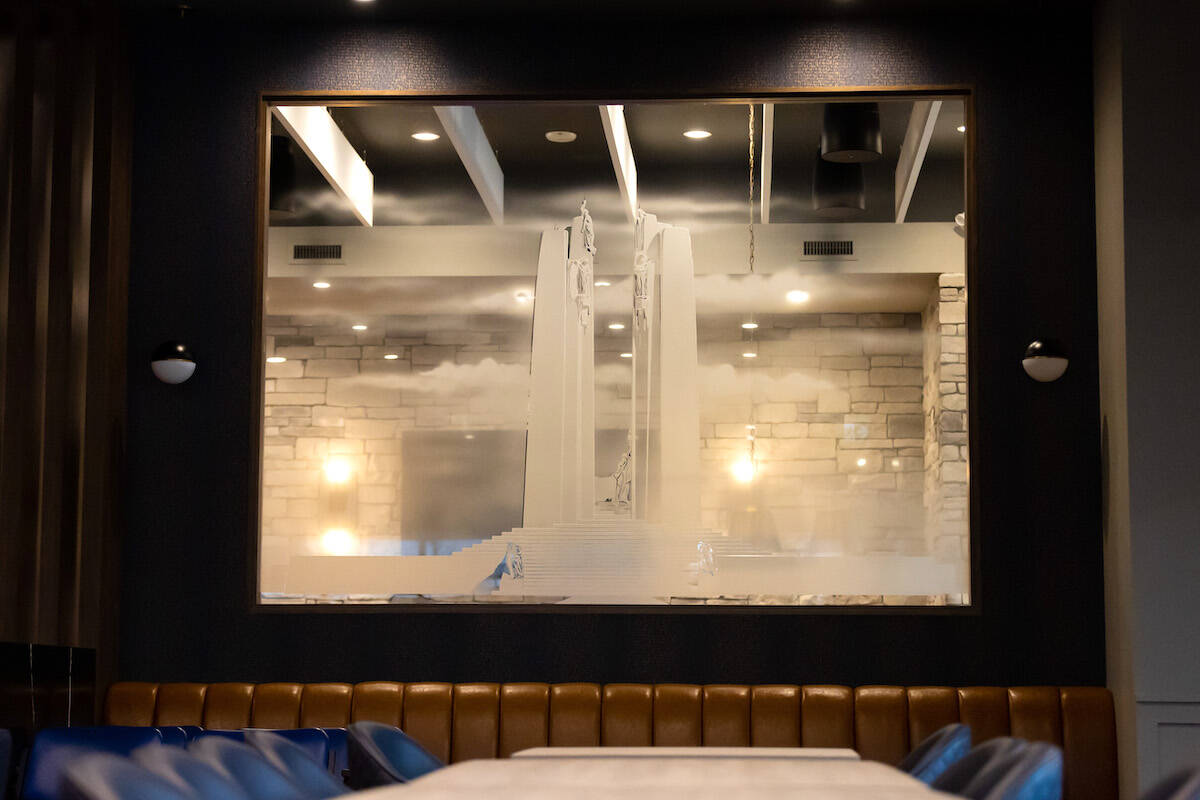 A state-of-the-art kitchen will feed Legion patrons and others in the building. The red-coloured tower houses a Centre of Clinical Excellence for Veterans & First Responders focused on post-traumatic stress disorder (PTSD) and mental health, along with market and affordable housing in a mix of nearly 600 homes.
"Upstairs we'll have apartments for veterans and first-responders, some of those are paraplegic and can't cook for themselves, and hopefully we can provide those meals for them," Moore said.
"We'll have food service throughout, and we can move things around and use spaces a certain way, for dances or meetings or whatever, karaoke," he added.
"With our license, we'll be able to have children in here up until around 10 o'clock at night. It's a special family food-service license, and we want to be more family-friendly here, to play some pool or listen to music."
Membership comes with privileges.
"We're at about 700 members, and we were down to around 500 and have come up a couple hundred," Moore explained. "With this (facility), we'll get more members, I'm sure. This is a different style Legion, the first of its kind, in a way. We know that not everybody wants to pay a membership of $60, but if you do, you get a perk – a discount on the bar, the food, whatever.
"Same with parking," Moore added. "We have 48 parking stalls downstairs, and members will park for free and have a fob for access. They come up the elevator and enter the Legion right here. Or they can walk through the front door."
Outside, a cenotaph will be built on the plaza on the northwest corner of the Village, hopefully by Remembrance Day this fall.
"Eventually there'll be a road right there (north of the building), and hopefully it gets called Veterans Parkway," Moore said.
---

tom.zillich@surreynowleader.com
Like us on Facebook Follow us on Instagram and follow Tom on Twitter