For it's fifth year, TEDxSurrey returned as a forum for technology, entertainment and design (the "TED") and talks were delivered by a dozen interesting people, each in 18 minutes or less. The speakers were chosen from more than 60 applicants.
Hundreds attended TEDxSurrey on Saturday (Jan. 21) at the Bell Performing Arts Centre, including Surrey mayor Brenda Locke.
Terri Fisher, a Fleetwood resident, enjoys attending this event every year and hearing the different speakers. "It's just exciting, it is usually something that you have thought about, or a different way to think about something,"
To start off the day, the MEI Screaming Eagles marching band performed. It was a lively way to kick off the event.
The two youngest speakers at Saturday's TEDxSurrey were students at Fraser Heights Secondary: Grade 12 student Muhaddisa Sarwari and Finn Liu, Grade 11.
Liu spoke about their coming out as a transgender. Liu, a Chinese-Canadian, recalled the first time they heard about the term transgender was when they were 11. At the dinner table an auntie brought up the topic of trans women using the women's bathroom. The faces of those around the table frowned in disaproval as the conversation continued.
A few years later, Liu came to the realization that they are transgender.
"It's not so frightening when queer Asian identities flourish in a western world with the already faced plenty of other issues like racial discrimination," said Liu "What's frightening is how lost people become and what should be supported is twisted into conditional love."
The crowd errupted with applause the second Liu finished his talk.
Later on in the day Sarwari spoke about her experience with prejudice as a Hazara refugee from Afghanistan while immigrating to Canada three years ago.
The 10 other speakers are Dr. Stefanie Green, Carla Guerrera, Dr. Kai Chan, Kal Dosanjh, Kelsey Carignan, Linda Fawcus, Marilyn Norry, Dr. Tanya Gee, Derek Strokon and Kai Scott. Their bios and photos are posted on tedxsurrey.ca/2023-speakers.
Musical performers included Victoria-based band Shale, White Rock singer-songwriter Richard Tichelman and the Screaming Eagles Marching Band from Abbotsford.
For a fifth year, @SurreyTEDx returns as a forum for technology, entertainment and design (the "TED") and talks delivered by a dozen interesting people in 18 minutes or less. including performance by Screaming Eagles Marching Band from Abbotsford. @SurreyNowLeader @TomZillich pic.twitter.com/DSQhrCiunQ

— Anna Burns (@AnnaBBurns) January 21, 2023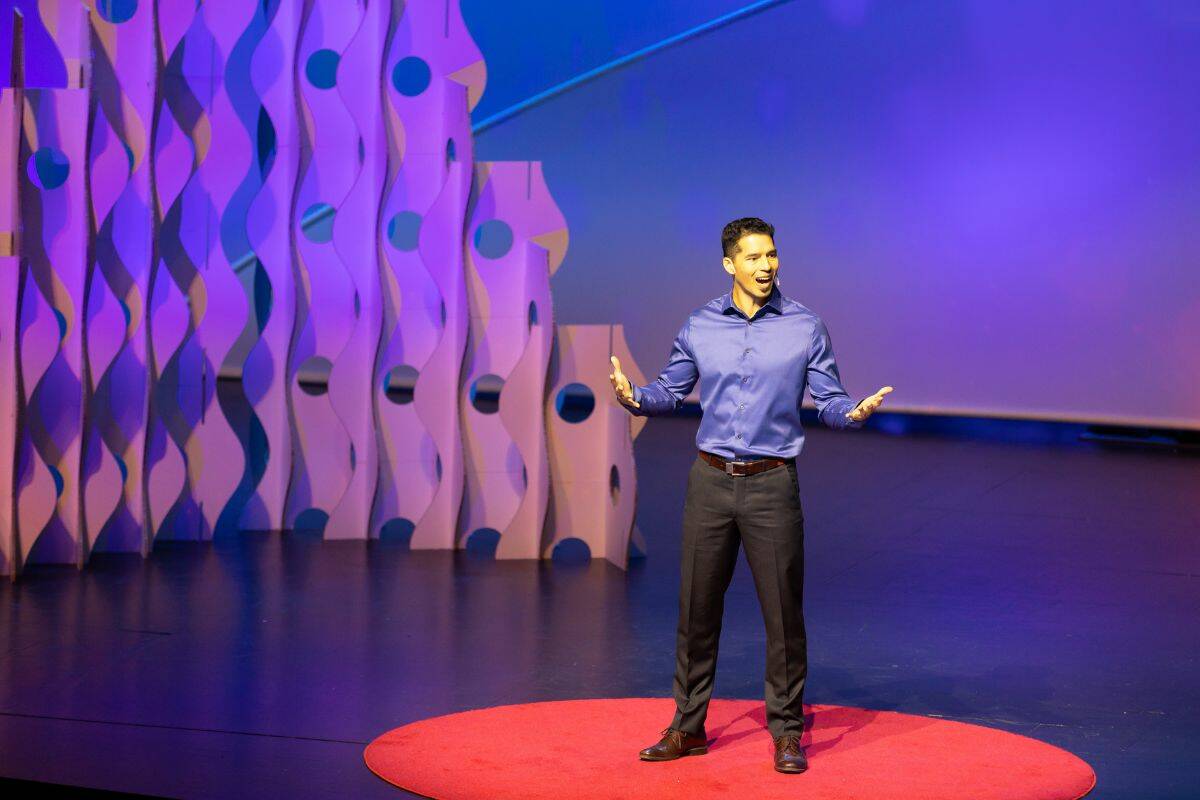 -With files from Tom Zillich
---

anna.burns@surreynowleader.com
Like us on Facebook Like us on Instagram and Follow Anna on Twitter.