SURREY — Al Lamons wants to make a splash with one final charity event at Tsawwassen's popular waterslide park.
The Surrey-based DJ plays host to the Summer Splash event at Splashdown, which is slated to close for good in just a few weeks.
The annual charity event is presented by the Lamons-directed F.U.B.A.R. organization, or Friends United Beyond All Race.
The group name echoes that of the popular long-weekend club nights Lamons organized for years under his longtime DJ handle, Alibaba.
This year's Summer Splash event, on Sunday, Aug. 14, will feature a performance by Maestro Fresh Wes (aka Wesley Williams, PICTURED), the Toronto-based rapper whose biggest hit was "Let Your Backbone Slide" in 1989.
Around that time, Lamons and Maestro first met in Winnipeg; later, they struck a friendship while working together one night at the old Cheers nightclub in North Delta.
"It's funny," Lamons recalled, "because I was kind of in an argument with the club manager and he (Maestro) was about to have dinner. So he said to me, 'Hey, you gotta take that negativity away from my food,'" he explained with a laugh.
"And I said, fair enough, you're right, and I apologized to him later about the argument. He always blesses his food, and here I was arguing with someone, and so he and I connected not only an artistic level but a spiritual level as well. It was totally memorable, and from then on, we became friends."
Summer Splash raises money for Make-A-Wish Foundation, as does the F.U.B.A.R. Golf Classic event, which this year tees off at Guildford Golf & Country Club on Sunday, Aug. 28.
Money generated at F.U.B.A.R. events was enough to recently give a girl named Alina, 4, a liver-transplant patient, her wish of meeting Queen Elsa, of "Frozen" movie fame, at Walt Disney World.
Lamons said he's proud to help make such adventures-of-a-lifetime happen for sick kids.
"It's pretty powerful to have one of the children come to your event and then the following year, they're not around, they're angels in heaven," he said. "You can only go back and look at the pictures and see the videos, and that stays with you. It's why we do what we do."
At Splashdown, the lease is up at the end of summer and the slides are showing their age after 30 years of operation, leaving operator Harold Frederiks little choice but to close the gates for good after Labour Day.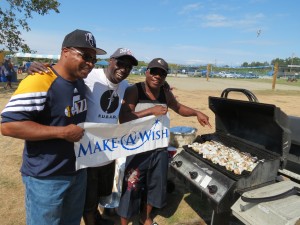 "I think the demand is still there, even at 30 years old," Frederiks said last May, when news spread of the park's imminent closure. "New families come every summer. Kids don't really care if the park is five years old or 30 years old. The park still fills up and people still have a good time."
Lamons promises a good time during the final Summer Splash event, which includes a barbecue, games of basketball and volleyball, contests and, of course, music. Event details are at Friendsunitedbeyondallrace.com.
"This is a special one this time, no question – it's the last one, and maybe some tears will be shed," Lamons said.
"Bringing Maestro out for this will make it special, too," he added. "It's a great bonus, and we're putting him at the front this year, close to the waterslides on a raised platform where the lifeguards are."
Looking ahead, as a replacement for Summer Splash, Lamons wants to launch a new F.U.B.A.R.-backed charity event called Eight to Eight Skate, a day-long skate-a-thon on the concrete at Robson Square in Vancouver, perhaps next spring or summer.
tom.zillich@thenownewspaper.com