NORTH DELTA — In the heat of summer, it's not uncommon to see NHL-level players hit the ice at Planet Ice in Delta. The four-rink facility on Nordel Court is a go-to place for local hockey pros looking to improve their game prior to the start of training camp in a few weeks.
On Friday afternoon (Aug. 5), that's where Tristan Jarry was working up a sweat with a few other goaltenders.
"It was a lot of skating today with the four of us – a lot of edge work, no pressure, just calming the mind, focusing on the things you need to work on," said Jarry, who graciously agreed to a post-practice interview when the Now approached him.
He was raised in a home up the hill from the rink, in North Delta.
"This is where my home base is and where I spend every summer, so it's nice to come home, relax and work on a few things out on the ice, too."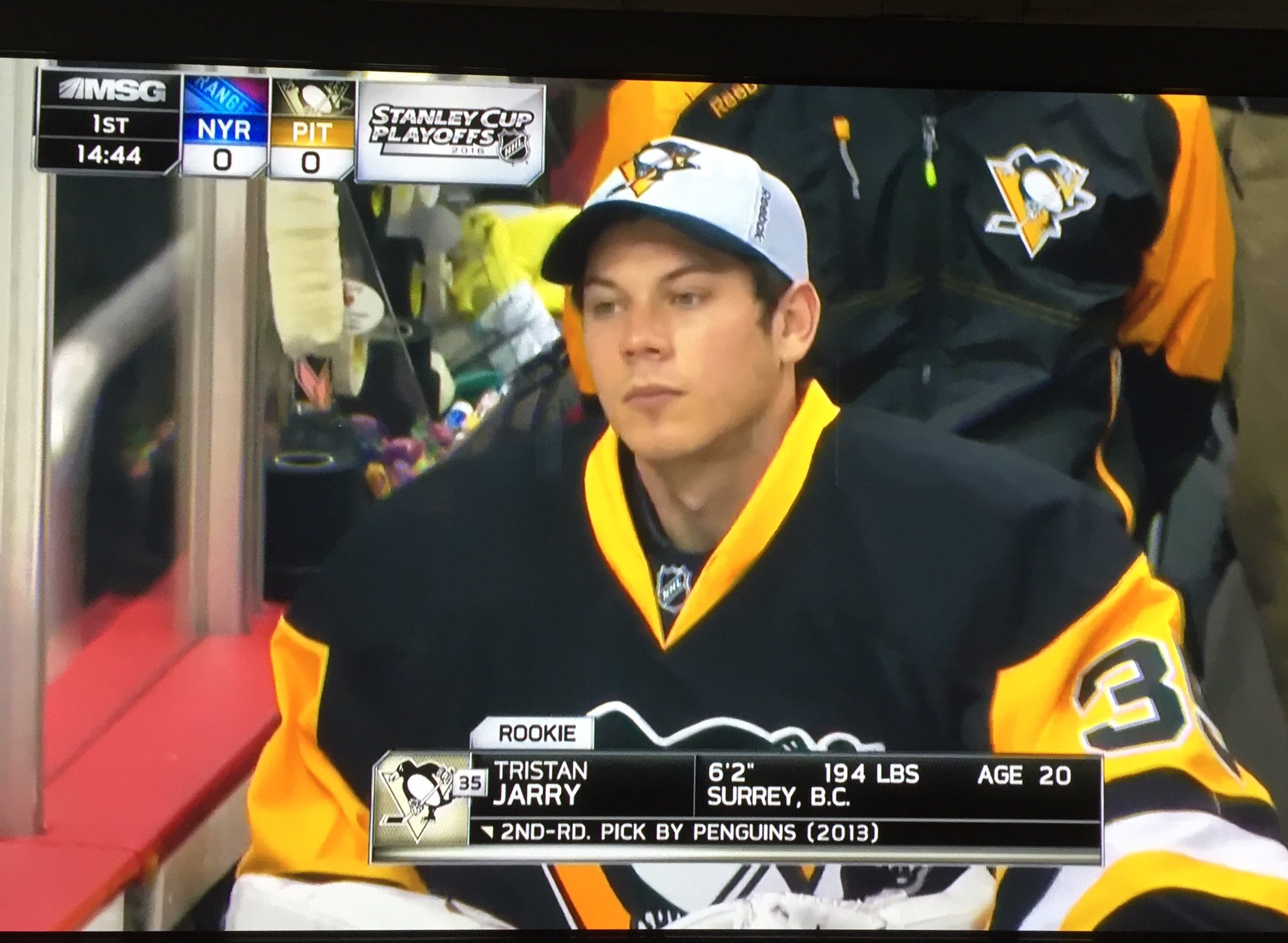 Jarry, 21, is a Pittsburgh Penguins prospect who found himself on the bench, as a backup during a rash of goaltender injuries, in a playoff game against New York Rangers last April.
(PICTURED: Tristan Jarry with the Penguins last April, in a screen-grab photo by Tom Zillich)
"It was very exciting to be called up like that for the first time by Pittsburgh, to be part of that atmosphere on home ice there," he told the Now.
Jarry hasn't yet played an NHL game, but he showed well with the Wilkes-Barre/Scranton Penguins of the AHL last season, earning a 0.905 save percentage and 2.69 goals-against average in 33 games played.
It wasn't long ago the 1995-born Jarry was in the French-immersion program at Devon Gardens Elementary in North Delta. Later, he was schooled at Burnsview Secondary before switching to the hockey academy in South Delta. From there, he played four seasons with Edmonton Oil Kings of the WHL.
Along the way, he hit the ice with the likes of Nic Petan, a fellow North Deltan who played 26 games with the Winnipeg Jets last season.
"Growing up," Jarry recalled, "I just went out and played every day. We had a big cement pad in the backyard and that's where I spent a lot of my time. We had an old above-ground pool and my parents took it out so we could play hockey on the cement where the pool was. That's where we played hockey every day."
Over the years, Jarry trained with Angelo Maggio, who runs the Magic goaltending school in Langley, and credits the instructor for paving the way to his pro career.
"I worked with Angelo for many years," Jarry said, "probably eight or nine years, and he's still with me, still keeps in touch with me, and I think it's where a lot of my success has come from. He taught me to work hard, how to play the position and it's helped me through all the levels."
Looking ahead a few weeks, Jarry said he's excited to start training camp with the Stanley Cup-winning Penguins to see where he fits in the organization, possibly behind Matt Murray and also longtime starter Marc-André Fleury.
"The organization hasn't said anything to me other than to come to camp, work hard, and wherever I fall, I'll always strive to be a goalie in the NHL," Jarry said. "It's just one of those things where you just have to keep working hard and hopefully that hard work pays off down the line. If that happens and everything falls into place, I'll be there one day hopefully."
tom.zillich@thenownewspaper.com