Metro Vancouver mayors gave a tentative green light Friday to a first-stage transit expansion plan that takes advantage of federal and provincial contributions while injecting more money to quickly boost transit service by 10 per cent region-wide.
The $2-billion phase-one plan still must go out to public consultations in October and get final approval in another vote of the mayors council in November.
But if it stays on track, SkyTrain and bus service could be boosted in early 2017, while orders go in for 50 new SkyTrain or Canada Line cars, five more West Coast Express train cars and a new SeaBus.
MORE INFO: Phase One plan details
The phase one plan provides for detailed design of the new Broadway subway and Surrey-area rapid transit extension, but construction would wait on a second-phase plan.
To pay for it, mayors intend to approve an increase in TransLink's property tax that would add an extra $3 to the bill for the average home in each year of the 10-year plan. The hit from the extra property tax would be considerably higher for detached house owners and particularly for those in areas with the highest property values.
A development cost charge to raise $100 million over 10 years from new development in the region, subject to provincial government approval, is also proposed, as is a  transit fare increase, while $125 million comes from selling existing TransLink property.
Several mayors said the federal government's offer of 50 per cent contributions to phase one capital projects – worth $370 million – was too generous to risk losing.
"It's an unprecedented opportunity," said Surrey Mayor Linda Hepner.
"We're taking leadership now," added Vancouver's Gregor Robertson. "We want to see the improvements now."
The vote came a day after the NDP promised a 40 per cent provincial contribution to Metro transit projects if elected.
Both Hepner and Robertson said they'd welcome a sweetened provincial share, but said the current deal is the best they can get for now.
All mayors at Friday's meeting voted in favour of the plan except Burnaby's Derek Corrigan, who said that capitulating to the province instead of making it a major issue in the next provincial election likely dooms the mayors to turning to property tax again and again for TransLink.
"The provincial government is spending billions of dollars on bridges," Corrigan said. "Until we get the courage as a group to make that confrontation real they are going to coast by again to an election without having to deal with the harsh reality that transit service in the Lower Mainland is inadequate."
Other mayors who in the past opposed the decision to go to referendum on a regional sales tax – West Vancouver's Mike Smith, Maple Ridge's Nicole Read and Delta's Lois Jackson – this time voted in favour of at least taking the plan to public consultation.
Smith said any use of property tax is unacceptable because it would have a much more severe impact on high-priced homes in West Vancouver.
But he said he will push to amend the plan to introduce a vehicle levy instead of the property tax hike.
"What we need in the region is to have the tools to decide how to fund it," Smith said. "Things like a vehicle levy should be on the table. If we get that we can take the pressure off property taxes. Do we tell the province how to raise their revenues? Why should they be telling us how to raise ours?"
Other mayors said they also wish a vehicle levy was possible, but the chosen funding sources are ones the province will allow now without a new referendum.
Read said she will push to ensure public information on the plan is objective and not a "sell job" of the sort that she said soured the public on the proposal to them in the failed 2015 referendum.
The higher property tax, development charge, fare hike and asset sales would cover the region's 17 per cent share of the capital projects, after 50 per cent and 33 per cent contributions from the federal and provincial governments, respectively.
Property taxes to TransLink do go up every year regardless – the agency is allowed by law to collect three per cent extra every year – but the 0.12 per cent annual increase proposed for the plan would be in addition.
The fare hike of two to three per cent per year for three years equates to about 10 cents more on base fares or $2 more on a monthly pass.
The plan would be the first of three phases spread over 10 years.
Future phases could still require other funding sources – potentially a vehicle levy or eventual mobility pricing – but Robertson said mayors don't envision turning to property taxes again.
Under phase one, studies of mobility pricing options would begin.
The alternative before mayors Friday involved a pared-down version of the plan strictly aimed at pulling in federal dollars with no early transit service lift to combat overcrowding and no property tax hike.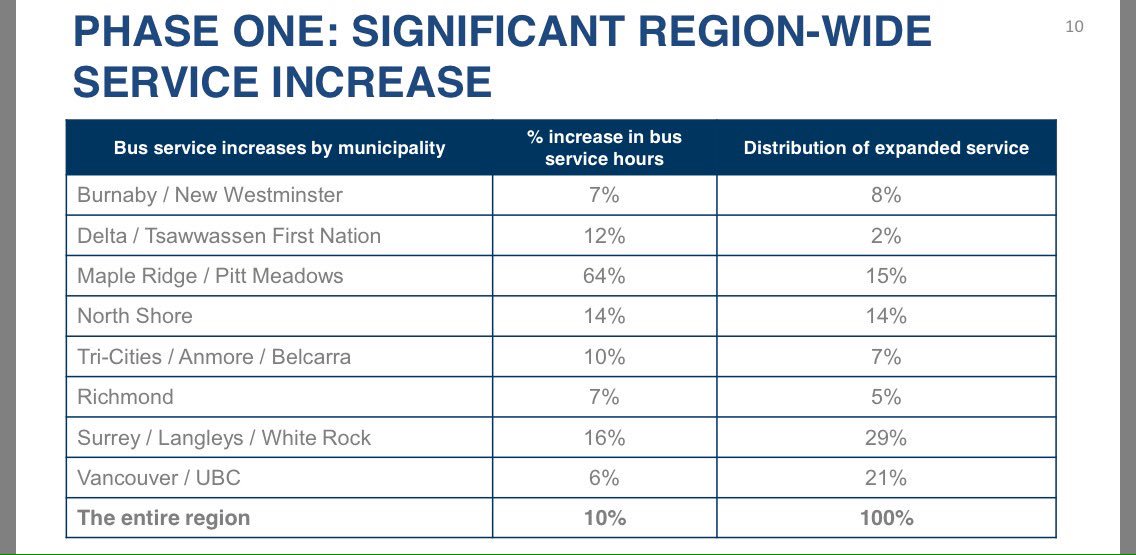 The planned bus service lift of 500,000 service hours is equivalent to adding 140 new buses.
The most significant increases in bus service are promised in the eastern parts of the region – up 64 per cent from today in Maple Ridge/Pitt Meadows and up 16 per cent in Surrey/Langley – compared to lifts of six to seven per cent in comparatively well-served Vancouver, Burnaby and Richmond.
See maps below for details of proposed improvements by region
Phase one also provides for up to five new B-Line express bus routes on Fraser Highway, Lougheed Highway, Marine Drive, 41st Avenue and Hastings Street.
Areas where all-new transit service is promised under the plan include Silver Valley in Maple Ridge, Morgan Creek and Clayton in Surrey, Willoughby in Langley and Burke Mountain in Coquitlam.
The third SeaBus would increase capacity and bring more frequent sailings every 10 minutes in rush hours and every 15 minutes at off-peak times.
Additional SkyTrain and SeaBus service could be put on as early as January, TransLink CEO Kevin Desmond said, while the bus service lift would start in April, in part by keeping older buses slated for retirement on the road longer.