SURREY — Nickelback is rocking again, and Daniel Adair is loving it.
The band's Surrey-raised drummer, along with his three bandmates, is in the midst of recording a ninth studio album, called "Feed the Machine," prior to the start of a summer tour.
The new album is due out on June 9, just two weeks before Nickelback begins a 45-date journey across North America in Noblesville, Indiana. The band is set to end the tour on Oct. 1 at Rogers Arena in Vancouver.
When the Now-Leader recently called Adair, he was driving from his Glen Valley-area home to the nearby abode of Nickelback singer/guitarist Chad Kroeger, to work on some songs for the new LP.
"The pressure cooker is on," Adair said with a nervous laugh. "We have some work to do, yeah. We only have about half of (the album) done, and there's good songs in the works but they just have to be finalized. It's a bit of a process, you know."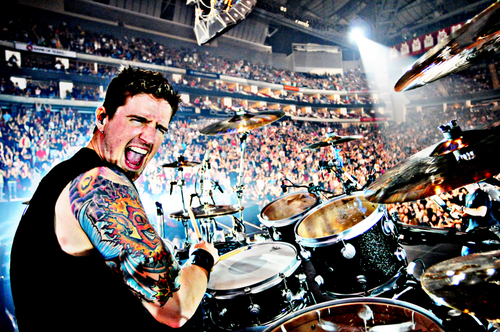 PICTURED: Photo of Daniel Adair posted to his Twitter page.
Adair in still the "new" guy in Nickelback, although he joined the band more than a dozen years ago, in early 2005.
Technology has changed plenty since then, and so has the way Nickelback records new music. Enthusiastically, Adair shed some light on the process.
"We're kind of strange in a way, because we record as we write, and technology can afford us to do that now," Adair explained. "We have an engineer up from Los Angeles, we go to Chad's house (and) all you need is a mic, a kickass computer and Protools rig, and you've got everything. The drums are programmed as they go along, so they have something to write to.
"It used to be that the drums were done first and everybody built on top of that, but this way now, I do the drums last," Adair added. "The song's all written, the parts are kind of there, and I built a studio at my house so the guys don't even have to come over there. They came over once and they didn't want to be in the room with me smashing the drums, so they just email the tracks over and I'll do the drums, and either email them back or run a hard drive over. I can track drums in my pajamas out in the forest where I live, it's fantastic."
At age 42, Adair is loving life as a member of one of the world's most popular bands.
Yes, they are.
Adair and his wife, Brittany, recently celebrated their 10th anniversary, and they have two kids, aged five and seven.
As a kid in Grade One, the future drummer's family moved from Toronto to Whalley.
"It was pretty rough in Whalley, sure," he told the Now in 2007. "Friends would show me their bruises from the beating they got from their stepfather the night before, stuff like that."
Years later, after getting some schooling in North Delta, Adair landed a job at the Long & McQuade store in Whalley, where he connected with other musicians and practised the drums until his hands blistered. He was soon good enough to land studio work, including a session with the American band Three Doors Down and, eventually, a permanent job with Nickelback.
"When I first got the Three Doors gig, I won the lottery, and when I got the Nickelback gig, I won the lottery again," Adair said. "That's a long time doing this now, and you go through a lot of stuff in your personal life as well. There's been hard times for everyone but it kind of came around a bit four years ago or so, with all of our kids getting older. I'm very happy in my family life, with the best wife and best kids, and we're in this place watching the music industry deteriorate, and knowing you're very fortunate. I have one of the most coveted drum thrones in the industry. There are so many drummers I know, way better than me, that would just kill to be in my position, so I'm very grateful for what I've got. You know, I can provide for my family and I'm doing what I love to do, and the appreciation factor is really high."
(story continues below)
Adair's hard-pounding drum work kicks off the new album's first single, "Feed the Machine," which was released on Feb. 1 as a "lyric video" in advance of the album. Since then, the clip has been viewed nearly four million times on YouTube.
With chugging guitars and frantic pace, the song echoes Nickelback's early days, not the band's more pop-sounding songs of recent years.
"Yeah, we went through that era, especially after working with (producer) Matt Lange, where things were a little more four on the floor, back in the 'Dark Horse' album days, and it's nice for me to stretch and play some more interesting stuff again," Adair raved. "We're going back to this roots of Nickelback kind of thing, you know. I'm a rock fan at heart and we went pretty pop there. It all depends on what comes out of Chad, and that was just the mode he was in. He writes great songs but I like when they rock a little better."
With screaming fans to soon welcome back Nickelback to arenas across the continent, Adair reflected on a rock 'n' roll journey that now involves his own family, one he adores.
"When I was a young man I always said, 'I'm never gonna have kids. I don't want 'em,' but then I met the right woman," Adair said. "I was still anxious about it all, but it all worked out, you know. That first year with the first baby, that was a hard one for me. That was the roughest point for me as a father, on the 'Dark Horse' tour, where I quit drinking, quit partying and tried to be responsible, but I was stressed out about having a kid and there was a learning curve with all that. Well, glad we got through that. It's good now."
Tickets for Nickelback's Oct. 1 concert at Rogers Arena are available through Livenation.com. The show will include opening bands Cheap Trick and Shaman's Harvest.
tom.zillich@thenownewspaper.com