Barnside Brewing's inaugural Harvest Festival was a massive hit with music fans over the weekend, Sept. 15-17, despite a few glitches.
The Sheepdogs and 54-40 were top draws at Ladner's Paterson Park during three days of music on the site of a former harness race track off Highway 17A.
It was a true homecoming gig for 54-40, especially singer/guitarist Neil Osborne and bassist Brad Merritt, who formed the band in South Delta way back in 1980 as a trio with original drummer Ian Franey.
Backstage, Merritt said Barnside was the band's biggest gig in Delta, to date, but not their first.
"We played the Tsawwassen Sun Fest in 1981 or maybe 1982," the bass player recalled. "The band before us didn't like us, so they attached the plug to the PA to their van, drove off and then broke the plug, and we were done after about five songs."
Saturday's 10,000-strong crowd filled the park for 54-40's 90-minute setlist of familiar hits. During "Nice to Luv You" Osborne borrowed appropriately home-town "Blow at High Dough" lyrics from The Tragically Hip. For "Baby Ran" and the Ministry-ish "Radio Luv Song," Dave Genn's guitar was so gloriously loud that he obviously wanted to be heard across the bay in Crescent Beach, where he grew up.
Barnside's best moment was when Genn invited son Beckett to air-guitar during "Ocean Pearl," near the end of the 17-song set. A beaming Beckett was all smiles as his dad riffed away beside him.
For me, the best moment of Barnside Harvest Festival was when Dave Genn's son Beckett joined 54-40 for "Ocean Pearl" as third guitarist.
The look of joy on Beckett's face is priceless! I was lucky to capture the moment stageside thanks to band manager @alienmoy. @davegenn pic.twitter.com/6vZEvplD38

— Tom Zillich (@TomZillich) September 18, 2023
The gig was the first of the summer for 54-40 keyboardist Dave Osborne (Neil's brother) after battling throat cancer. "It's good to have him back because we've toured the whole summer with just the four of us," Merritt noted.
As he talked, festival producer John Donnelly said hello while walking by.
"That guy is genius right there," Merritt said quietly. "To make this thing happen here, only he could do it. But don't tell him I said that."
With Barnside's backing, the un-retired Donnelly put together a fine festival for 2023 and is already working to plan the 2024 edition.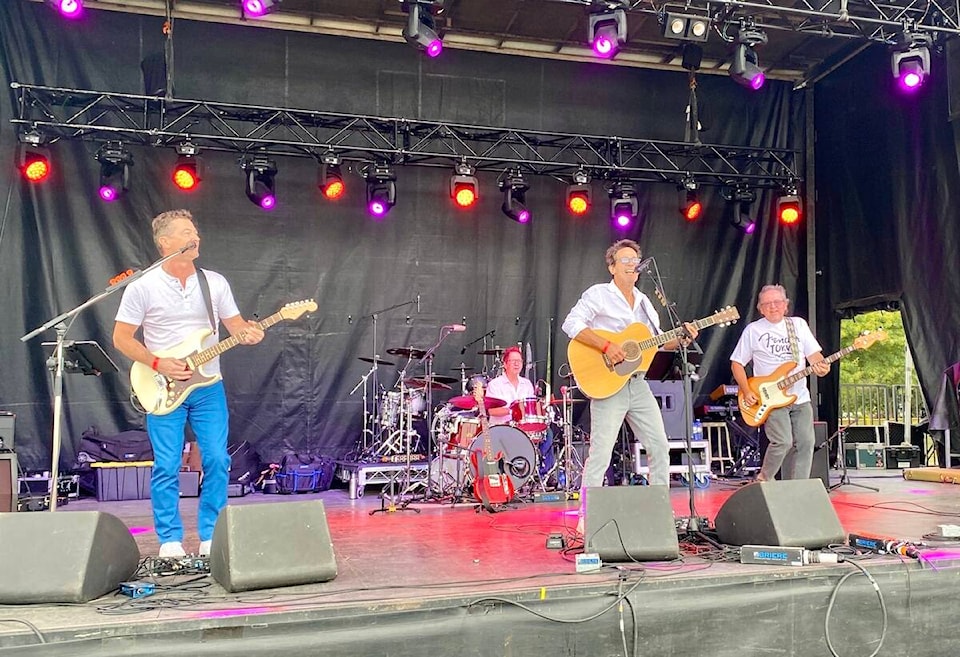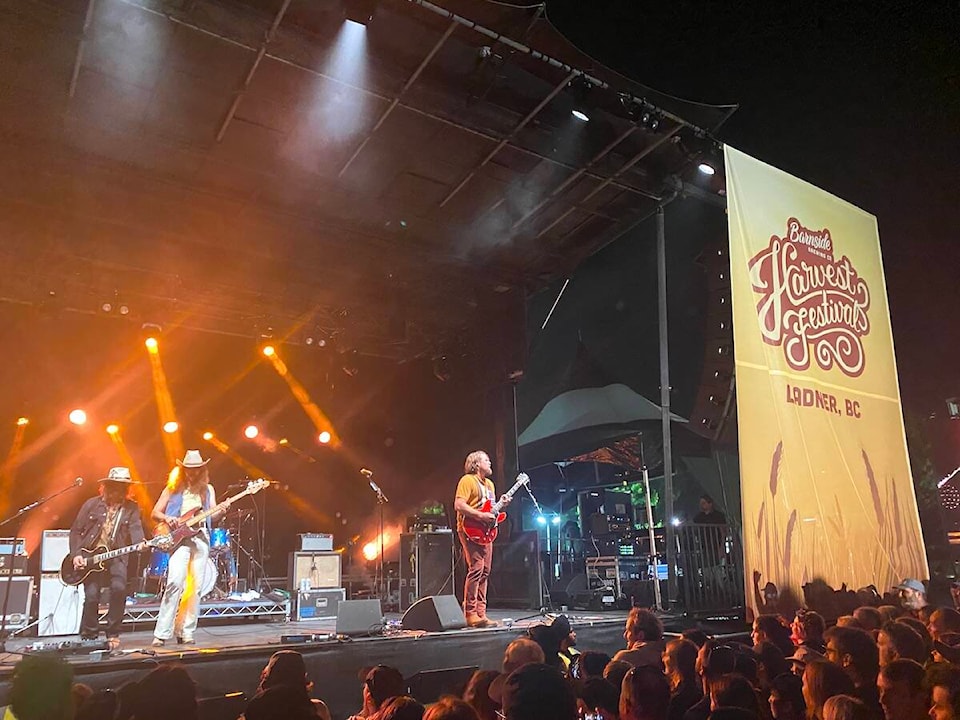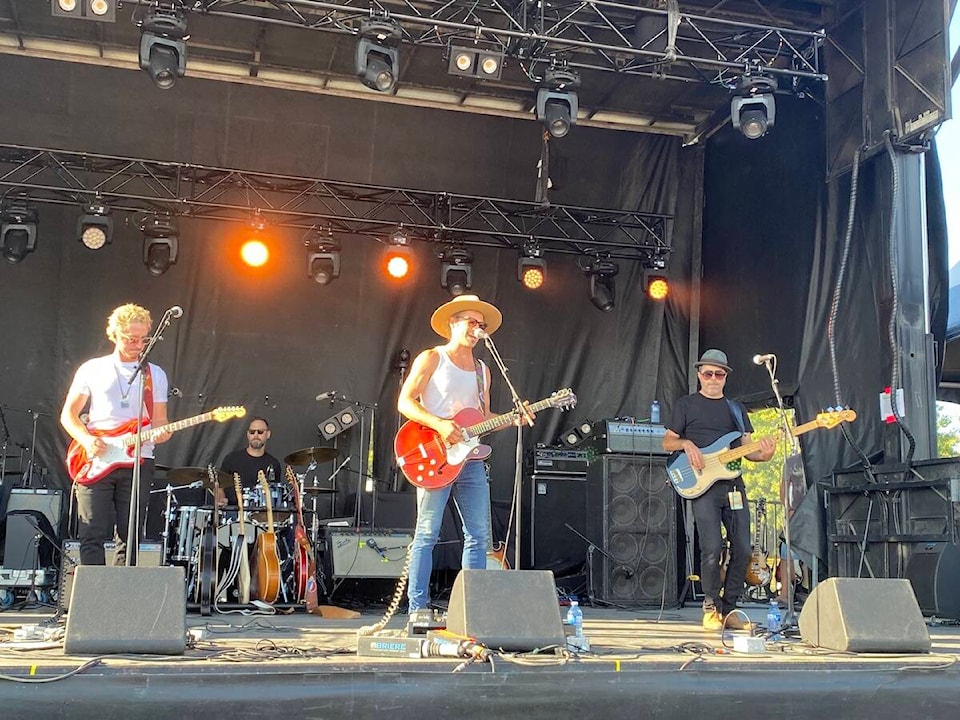 Other musical highlights last weekend included the harmony-guitar magic of Saskatoon's The Sheepdogs, the rock 'n' soul fire of Victoria's Jesse Roper and the gritty, Gibson SG-powered country twang of The Roadhammers.
Barnside was so popular, with so many people filling the park, that cellphone service crashed and shut down bank-card tapping, leading to cash-only sales. Concert-goers stood in long lines for beer and other adult beverages, so hopefully those issues get fixed for next September.
In just a couple of weeks 54-40 will return for the band's annual Commodore Ballroom shows, Oct. 6-7, with new music to play.
"We have a soft release of Live at El Mocambo, only available on LP, but we're going to release it on other (platforms) later," Merritt reported. "It was recorded there right at the height of COVID, September 2020. We had about 40 people there (at the legendary Toronto bar). It sounds great, so good."
Also new for 54-40 is an album and song called "West Coast Band," the video for which was shot at El Mocambo.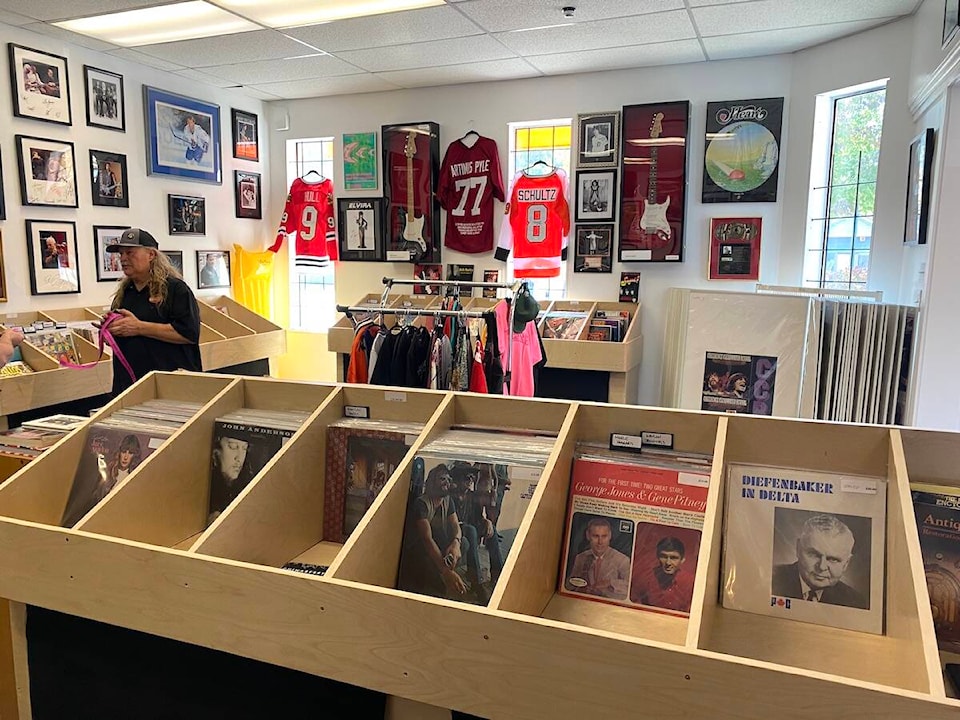 BLUE MOON IN DELTA
Also Saturday in Ladner, Murray Bureyko celebrated six weeks of his new Blue Moon Collectables shop with an outdoor concert by trio Stone Poets (Cherelle Jardine, Marc Gladstone, Scott Jackson), who performed songs from their new Human album.
Retired from city work, Bureyko lives on a float home on Westham Island and once worked as a roadie for Whitesnake, Gene Simmons, Cheap Trick and other bands. His shop features vinyl records, posters, autographed cards, books (including some from the collection of late music journalist Tom Harrison) and other collectables.
"Pretty much everything here was under the bed, in the closet, and to be honest this is my man cave," Bureyko explained. "We brought it all here so I could enjoy it because we don't have the space there, and now I can buy, sell and trade and collect more stuff.
"The name is Blue Moon because a lot of the items you'll only see once in a blue moon," he added.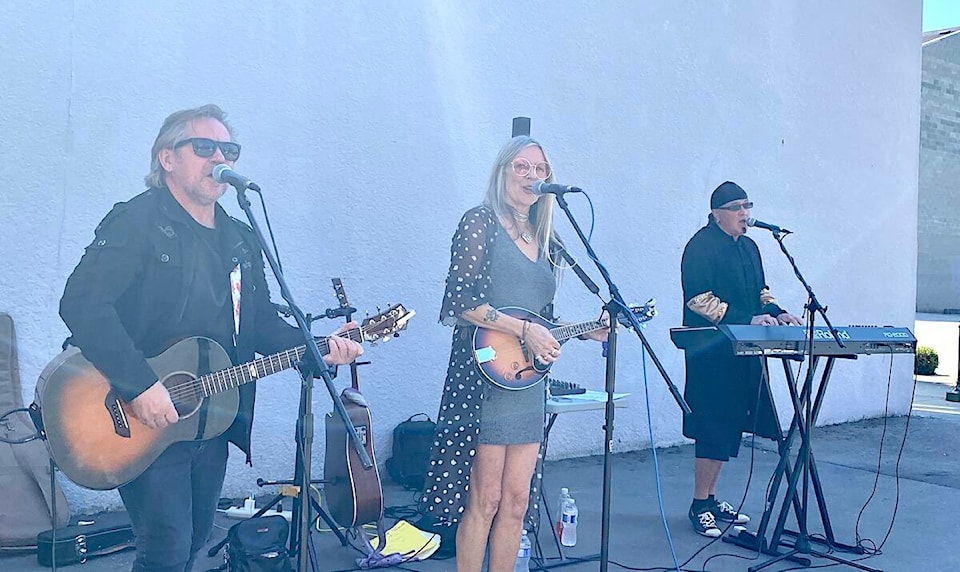 Bureyko's connection to Stone Poets is through ex-wife Jardine, mother of their daughter Ajaye, a musician living in Nashville and currently touring Europe.
Bureyko's pal David Wills, singer in Stonebolt and The Dynamics, was at Blue Moon and got talking about recording a new Stonebolt song with Ray Roper and John Webster.
"It's called 'Back on the Bottom Line,' which was originally intended to be on the New Set of Changes album in 1980 but it wasn't finished in time for the release," Wills explained.
"Ray was moving all of his music stuff up to Peachland to start his new home studio up there, unearthed the old two-inch masters and found a couple of unfinished songs on there. One of them was that song and we thought, you know, 'We've got to finish this thing,' because it always went over killer live, but it had never been finished off. But there were no vocals and no lead guitar and no keyboard, it was just basically bass and drums. So it's a new old song that we fattened up with modern recording."
Roper recently worked on Paul Rodgers' new album, and that rhythm section (Todd Ronning on bass, Rick Fedyk on drums) has gigged with Stonebolt recently. "We played in Summerland at the Action Festival in June, and we may do the occasional show again," Wills added.